The Europe-China Climate Cooperation Forum was Successfully Held Online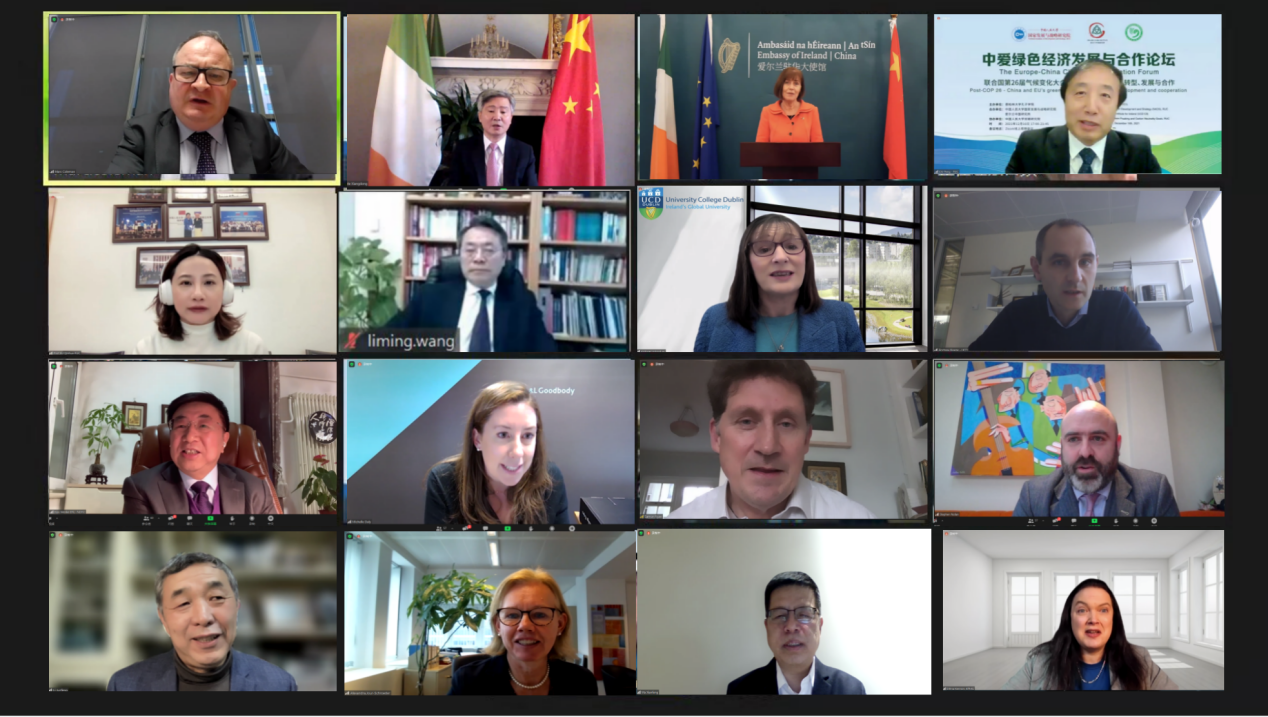 On December 16, 2021, the Europe-China Climate Cooperation Forum, which is Co-organized by Ireland China Institute (ICI) , National Academy of Development and Strategy (NADS), RUC ,UCD Confucius Institute for Ireland (UCD CII) and supported by Academy of Carbon Peaking and Carbon Neutrality Goals, RUC was successfully held online.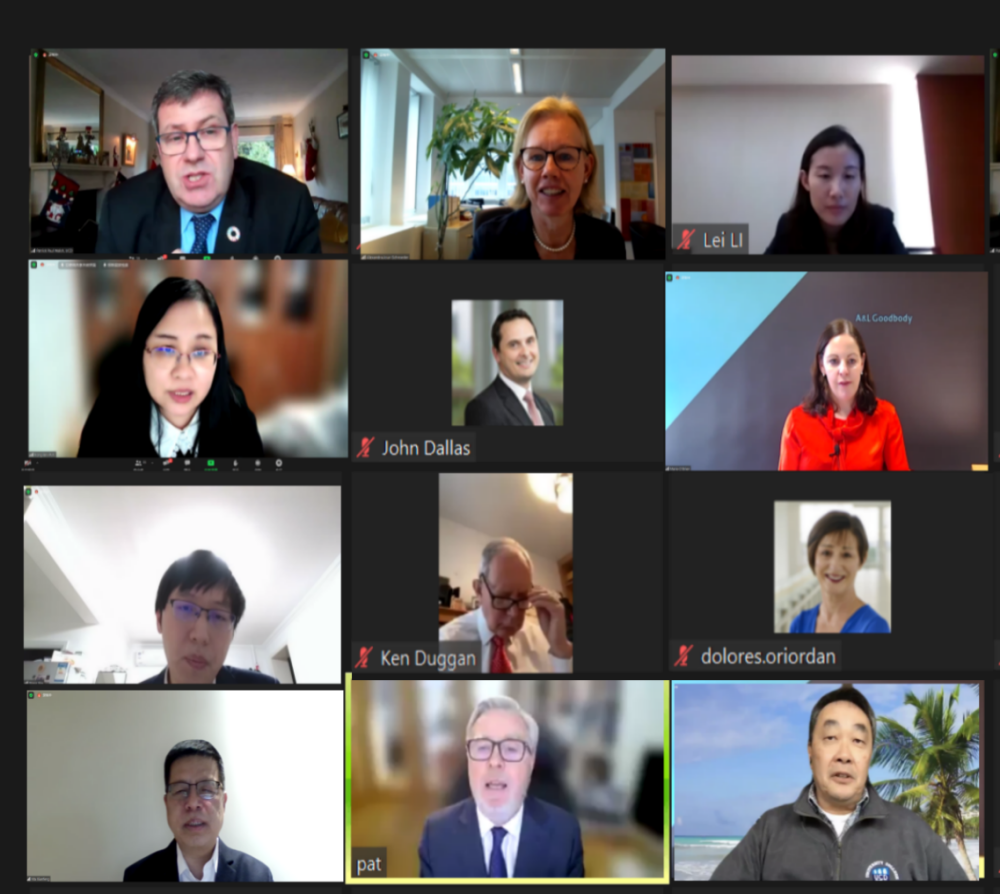 Eamon Ryan, Minister for Environment, Climate and Communications, Sean Fleming, Irish Minister of State Department of Finance, Enda Kenny, former prime minister of the Republic of Ireland and president of ICI, H.E. Ann Derwin, the Irish Ambassador to China, H.E. HE Xiangdong, the Chinese Ambassador to Ireland, Prof. Du Peng, Vice President of RUC, Dolores O'Riordan, Vice President for Global Engagement, UCD, Li Junfeng, Director of Academic Committee of National Center for Climate Change Strategy and International Cooperation (NCSC) of China, Wang Liming, First Director and Chairman of Academic Committee of National Center for Climate Change Strategy and International Cooperation (NCSC), Executive Member of the Council of China Energy Research Society, Xu Qinhua, Vice Dean of NADS of RUC, and other nearly 200 people from the Chinese and European governments, academia and business community attended the forum.
Enda Kenny, He Xiangdong , Ann Derwin, Du Peng and Dolores O'Riordan delivered the opening remarks respectively. Sean Fleming and Eamon Ryan delivered important speeches separately.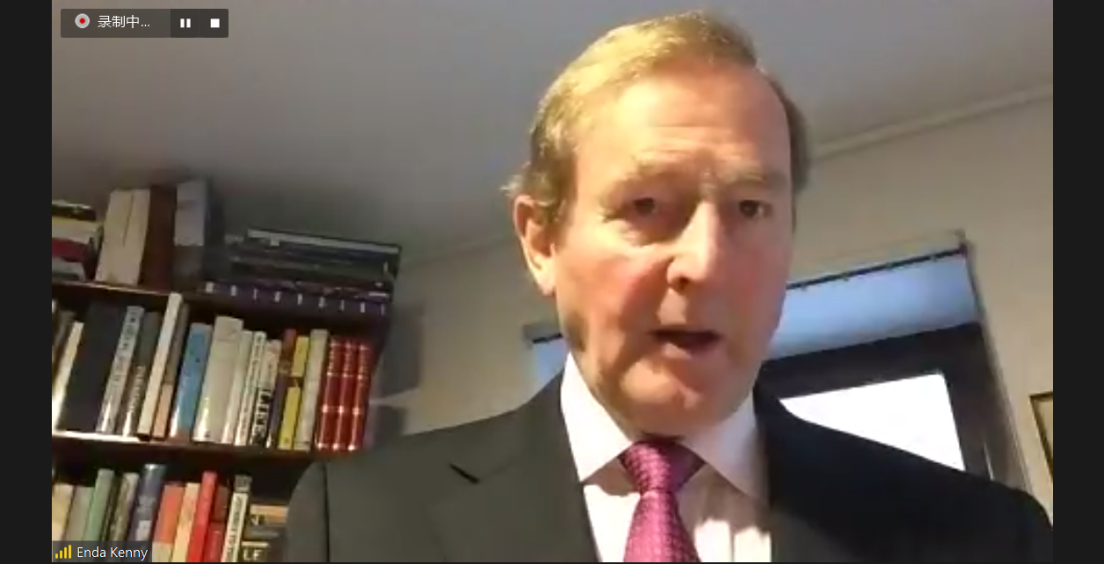 Enda Kenny firstly addressed the forum on behalf of ICI. He said he was particularly pleased to co-host the forum with National Academy of Development and Strategy (NADS), RUC ,UCD Confucius Institute for Ireland (UCD CII). He said this forum focuses on the cooperation between China and the EU, especially after the 26th United Nations Climate Change Conference (COP26), is very meaningful. It is important to further discuss the cooperation between China and EU that the two large economies should join hands to address global challenges.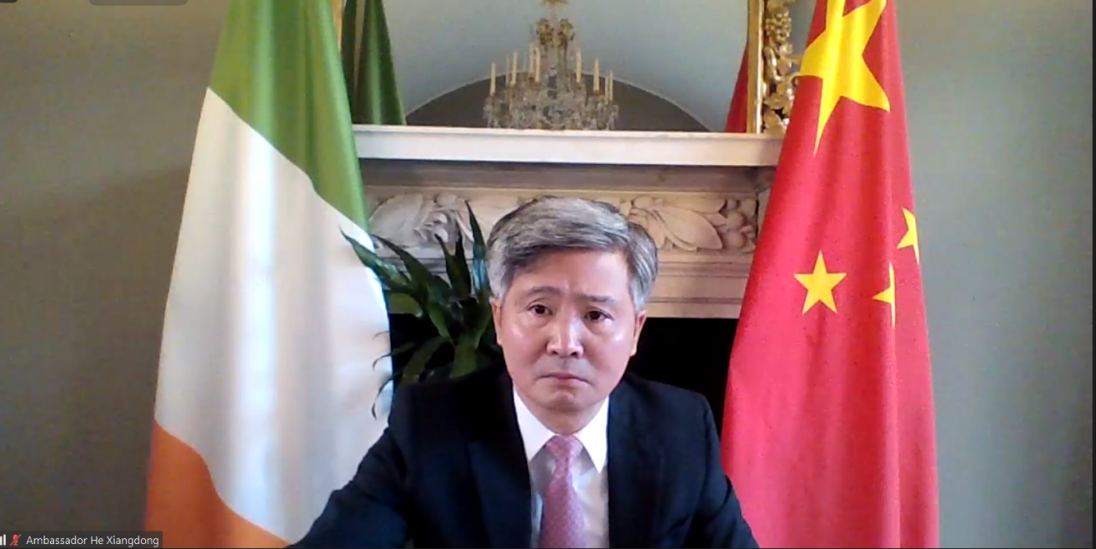 H.E. He Xiangdong said the impact of climate change was becoming increasingly apparent and there was an urgent need for global action. In his written address to the World Leaders' Summit of the 26th Conference of the Parties to the United Nations Framework Convention on Climate Change (COP26), Chinese President Xi Jinping pointed out that multilateralism is the right way to deal with global challenges such as climate change. China must deliver on our promises, establish and set realistic goals. And green transformation must be accelerated. Innovation in the field of science and technology must be fully utilized to promote the transformation of the resource and energy industry, as well as the green transformation of production and consumption patterns and lifestyles. Climate change measures need to be taken as well. I believe that the forum today will produce new ideas on climate change and further promote China-EU cooperation on climate change.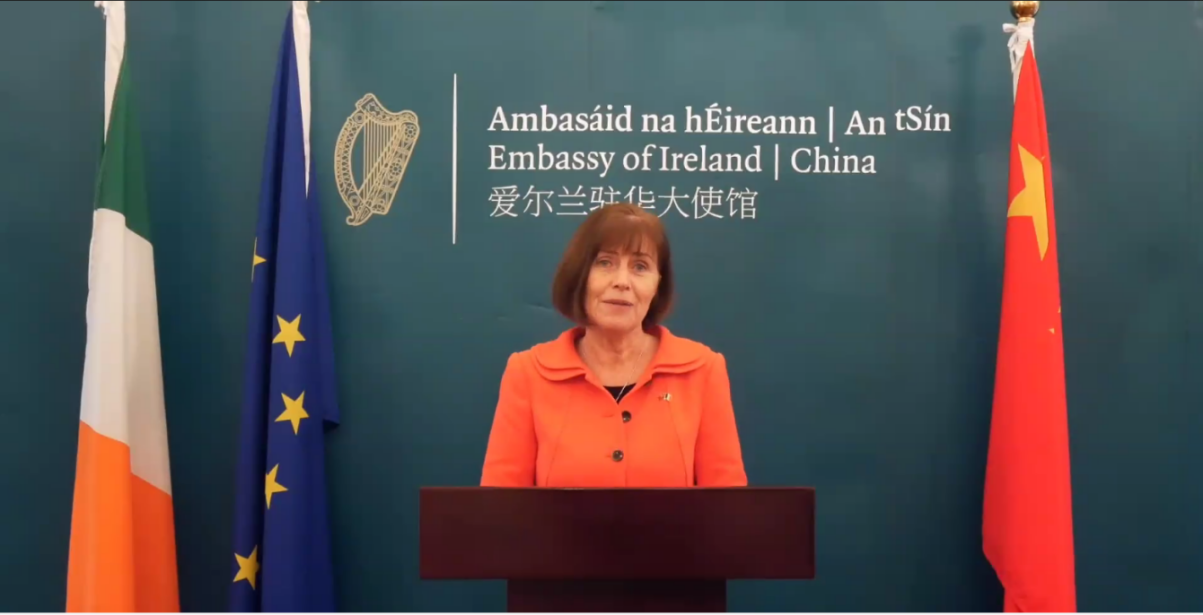 H.E. Ann Dervin pointed out that the Irish embassy team, as well as consuls in Shanghai and Hong Kong, are working together to address a range of issues involved in the bilateral relationship between Ireland and China, and are working on key global issues, such as the climate issue, which is of course an area with increasing importance and priority for both China and Ireland. At the recent 15th Meeting of the Conference of the Parties to the Convention on Biological Diversity (COP15) held in Kunming, China, the Chinese government expressed its strong desire for biodiversity at both the central and local levels. The EU level is also an important factor to be considered in china-Ireland climate cooperation. China-EU climate cooperation has yielded positive results. For example, China launched its first carbon market in July this year, and the EU has made positive contributions. Ann Derwin stressed that in any relationship, there will be issues of disagreement between the two sides. She hoped that China-EU cooperation on climate will continue to develop and play a positive role. There are innovative opportunities as well as significant business opportunities for companies involved in green development, and Irish embassies, consulates and agencies will help facilitate this process.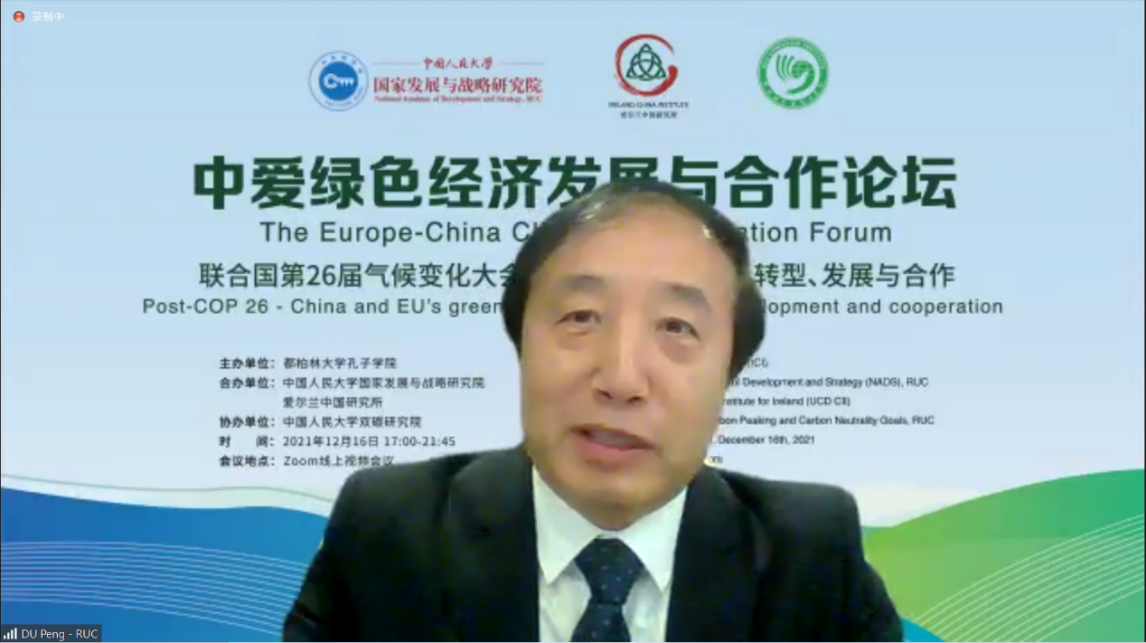 Prof. Du Peng pointed out that, climate change is a common challenge for all mankind, China attaches great importance to addressing climate change. As the world's largest developing country, with its own economic and social difficulties, China has shown a responsible attitude in the aspect of environmental protection: China has been implementing and adhering to the United Nations Framework Convention on Climate Change (UNFCCC) and the Paris Agreement, implementing a series of strategies, measures and actions to address climate change, and participating in global climate governance. At the COP26 climate summit in Glasgow, China and the United States, the world's two largest carbon emitters, issued a joint declaration to strengthen climate action and agreed to strengthen cooperation over the next decade, which has brought "new hope" for the world to achieve a 1.5C temperature rise limit. China and the EU are both pillars of global climate governance and leaders in global green development. The cooperation between China and EU is a trend of the time. Looking ahead, china-EU cooperation in new energy and green finance is in the ascendant, presenting new opportunities for deepening the green partnership.
As a world-class university featuring in the humanities and social sciences, relying on its advantages in disciplines and resources, Renmin University of China has established the Institute of National Academy of Development and Strategy (NADS), the top think tank with Chinese brand, focusing on in-depth research on green economy, climate change, environmental protection and the Belt and Road Initiative. Over the past year, Renmin University of China has organized: The CHINA-U.S. Climate Change Cooperation Closed-Door Round table conference,the International Symposium on "20 Years of SCO: Marching Towards a Community of Shared Future", China-EU Green Development Forum 2020, China-Israel online meeting on sustainable development, Sino-Russian energy transformation conference, COP15 ECF Theme Forum "Financial Sector Supporting Biodiversity", and other activities. Which expounded China's important discourse on ecological civilization construction, climate change cooperation, biodiversity conservation and China's achievements in green development from different perspectives. We have actively promoted green cultural exchanges and mutual learning among green civilizations, jointly explored the drivers of green development, and promoted green recovery of the world economy. All these efforts have had a positive social impact. At last, Prof. Du Peng hoped that, through the full exchanges and discussions, the forum will come up with new ideas to help Achieve China's carbon peak and carbon neutral goals and contribute to the global low-carbon transition. He also hoped, all experts and scholars that attending the forum will take a good advantage of this opportunity to further conduct academic exchanges, jointly advance china-Ireland and China-EU cooperation on climate change and green development, and help the world move to a new level of green and low-carbon development.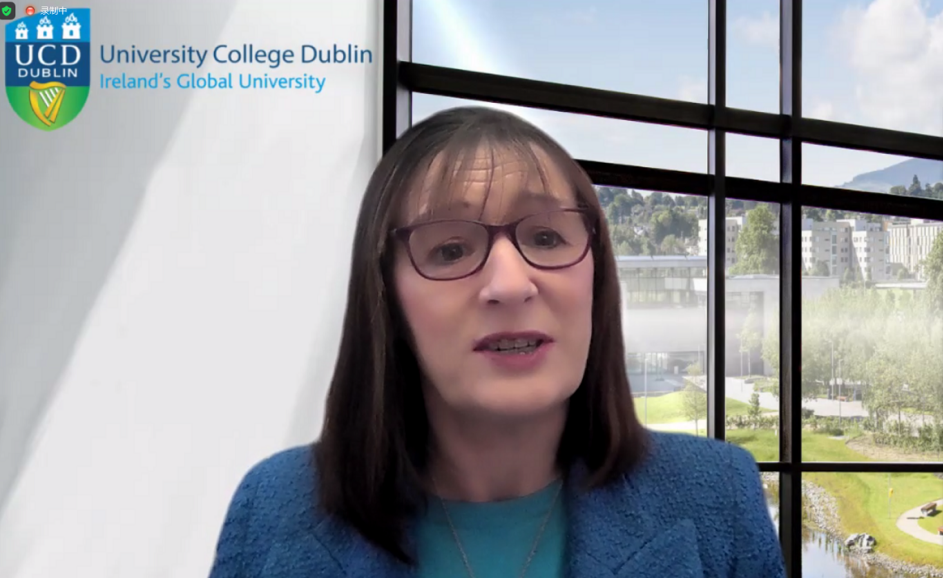 As a global university, UCD regularly hosts global forums on three topics, said Dolores O'Riordan. These topics include: 1.Creating a global sustainable society; 2.Driving transformation through digital technology; 3. Building a healthier society and promote human prosperity and development. In the post-COP26 period, the international community needs to be mobilized for cooperation, especially between the East and West. She said. UCD invites the world's leading researchers to promote interdisciplinary collaboration to address global challenges. She pointed out that, as Professor Du Peng mentioned, the partnership between Chinese and Irish universities should be further promoted to join hands to communicate and address the problems and challenges facing the world.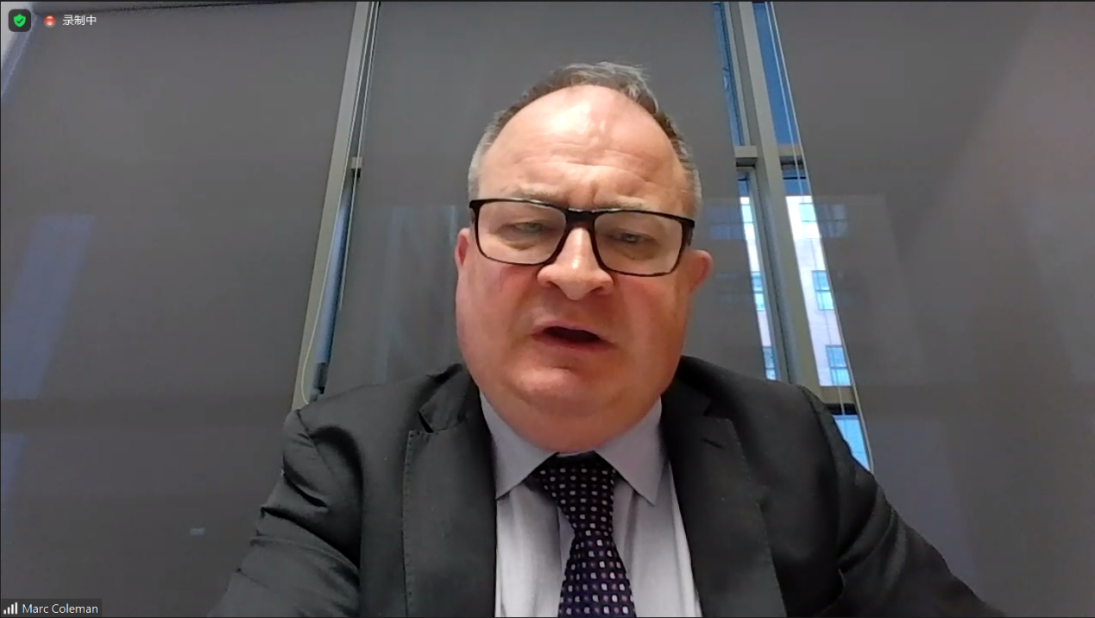 The Opening speech session of the forum was chaired by Marc Coleman, CEO of Octavian Research & MarcoPolo Communications, ICI Board Member
Environment and Science Editor of The Irish Times Kevin O'Sullivan, introduced the results and problems of COP26. In order to achieve common climate goals, he pointed out that there must be mutual trust, a global strategy, and common actions on a global scale.
The forum includes keynote Speeches Session and 4 Panel Discussion Sessions. Keynote speakers included Pat Cox, Former President of the European Parliament, ICI Board Member, Li Junfeng, First Director and Chairman of Academic Committee of National Center for Climate Change Strategy and International Cooperation (NCSC), Executive Member of the Council of China Energy Research Society, Alexandre Jour Schneider, Deputy DG EU Commission for Financial Services.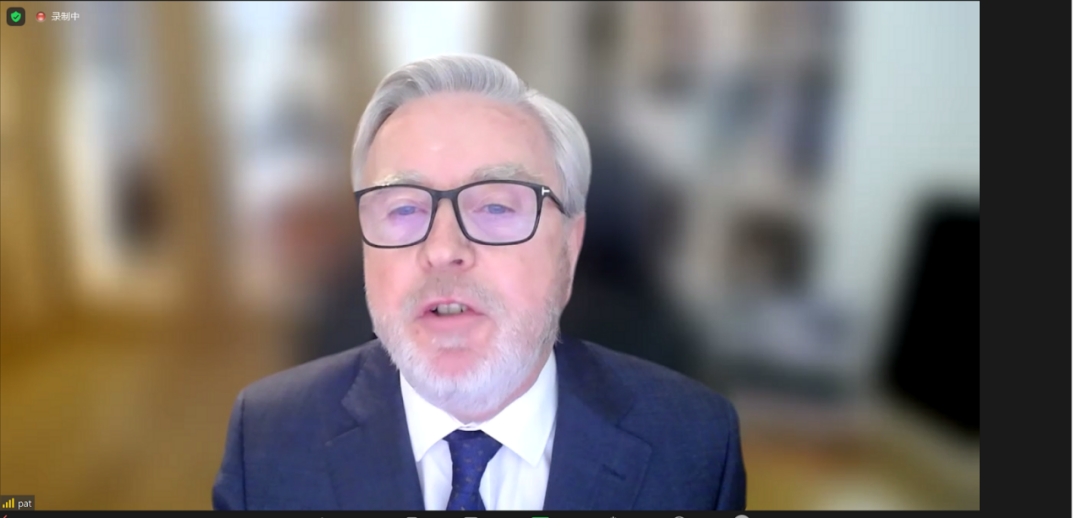 Pat Cox introduced more than 60 different eu policies, highlighting the EU's commitment to leading the way on global climate change. And stressed the need for a sustainable spirit of cooperation that transcends today's greatest geopolitical differences to push for reductions in greenhouse gas emissions. He points out that the transition to a green economy is not only expensive, but also complex and highly competitive. Geopolitical tensions make for an unpredictable and uncertain world. In a long run, alternative emerging technologies must be harnessing and accelerating globalisation, thereby preventing decarbonisation from slowing. Dialogue like this today is vital. Better understanding is far more important and meaningful than endless disputes.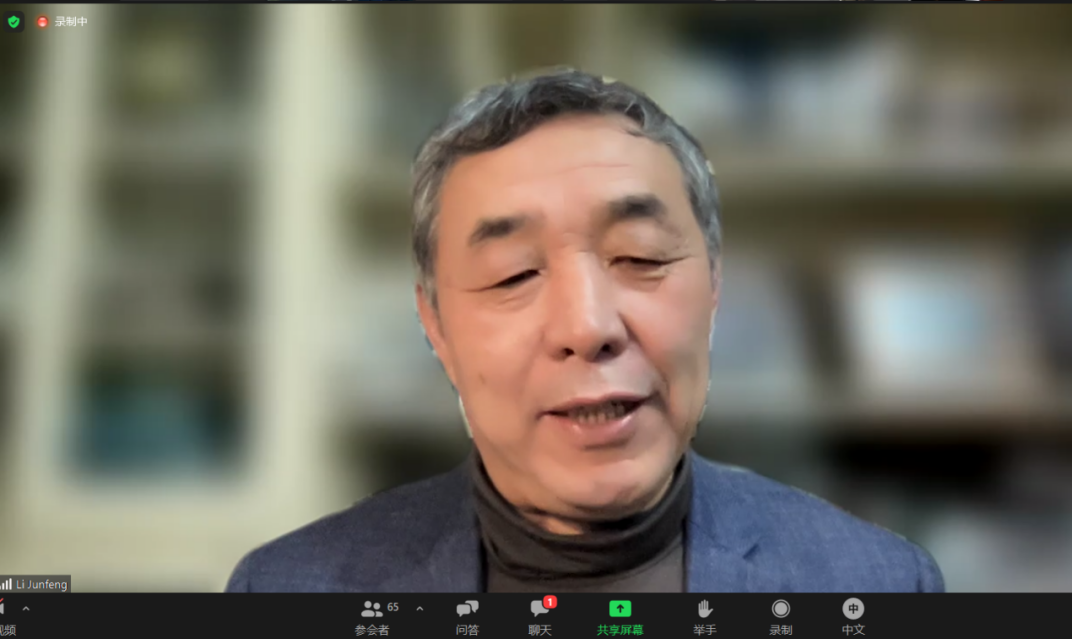 Li Junfeng pointed out that one of the most important directions of China-Eu cooperation is to push the United States to become regular. This is not to say that a responsible major country should not be happy to enter or unhappy to exit. On the other hand, China and the EU should conduct practical cooperation and promote development in developing countries at the same time. China and Europe have much in common among developing countries. Chinese equipment and technology, together with EU experience, can be extended to developing countries, especially in Africa, Southeast Asia and South America. These areas are relatively easy to achieve carbon neutrality. Li Junfeng summed up and stressed that Sino-US cooperation is very important, but there are many problems in Sino-US cooperation at present; China-EU cooperation should be solid and pragmatic. Let the progress of China-EU cooperation set an example for China-US cooperation.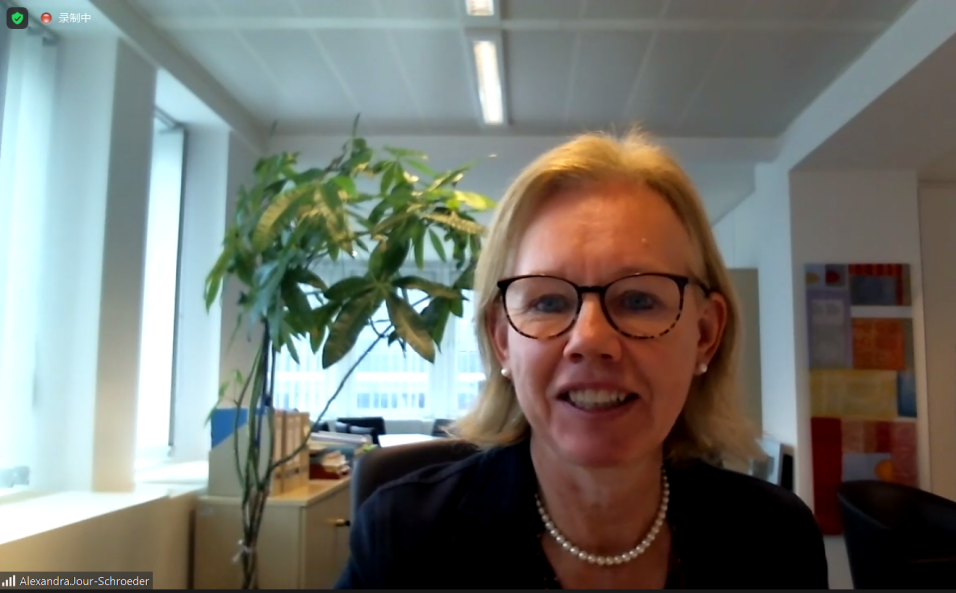 Alexandre Jour Schneider mainly introduced the situation of green finance in EU, especially the classification standard of green finance. At the EU level, the introduction of the standard provides a common language context for defining and promoting capital flows to climate finance. This represents a further strengthening of the European financial supervisory authorities' guidance on sustainable financial market development. The EU classification scheme consists of scientific criteria in four areas: low carbon, transformation, supports and adaptation. Looking ahead, she stressed that the Green finance classification in Europe will focus on green transformation, hoping to support more sectors to achieve sustainable development. At the same time, she hoped to find a way to create the EU green finance classification framework to support green transformation. The EU recently introduced a green strategy called "sustainable Finance" to facilitate the transition to sustainable development. A very important pillar of the vision for finance is that financial resilience, particularly in the banking and insurance sectors, which needs to be further strengthened to take on more climate change risk and ensure that ESG risks are better managed. The relevant cooperation between the EU and China can promote the participation of the private sector in addressing the climate change challenge.
The Keynote Speeches Session was chaired by Prof. WANG Liming, Director of UCD CII and ICI Board Member.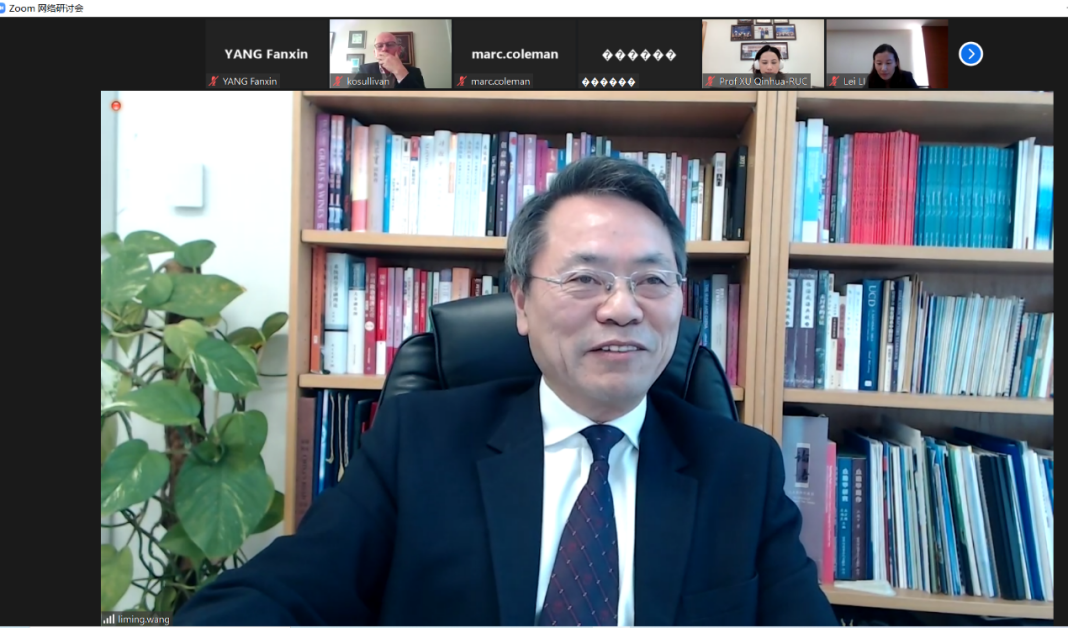 In the Panel Discussion of topic 1, four experts from China and Ireland conducted seminars on the theme of "Panel discussion on China and EU's support for green economic transition, climate financing and renewable energy technology in developing countries ", they are LI Lei, Director of Department of Risk Management and Performance Appraisal at China Clean Development Mechanism Funding, China Public Private Partnership Center; Andrew Keane, Director of UCD Energy Institute; ZHANG Yuqing, Former Deputy Director General, China National Energy Administration; Patrick Paul Walsh, Director of UCD Centre for Sustainable Development Studies. This session was chaired by Pat Cox, Former President of the European Parliament, ICI Board Member.
In the Panel Discussion of topic 2, Ethna Kennon, Tax Director of KPMG Ireland, focused on the implementation and challenges of the EU Carbon Border Adjustment Mechanism (CBAM) and the system of carbon prices, standard targets, and support policies. This will ensure that the price of imported goods can more accurately reflect their carbon content, as an alternative measure to address the risk of carbon leakage in the EU Emissions Trading System (EU ETS).
In the Panel Discussion of topic 3, focusing on "EU-China renewable energy development and cooperation from enterprises' perspectives", three experts from China and Ireland, including Research Professor of NDRC Energy Research Institute (ERI) HAN Wenke, BlockEnergy CEO Kraken Yu and Partner of A&L Goodbody John Dallas, Share opinions from the perspective of the enterprise.
In the Panel Discussion of topic 4, focusing on "green finance", Stephen Nolan, Managing Director, UNDP Financial Centers for Sustainability (FC4S), MA Xianfeng, COE of China Chengxin Investment Group Co. Ltd and Deputy Director of Green Finance Committee at China Society for Finance and Banking, Partner of A&L Goodbody Michelle Daly, LAN Hong, Deputy Director of Eco-Finance Research Center, Professor & Doctoral Supervisor, Department of Environmental Economics and Management at RUC, and WANG Jijie, Assistant Professor of National Center for Climate Change Strategy and International Cooperation. Share their own opinions. This session was moderated by Marie O'Brien, Partner of A&L Goodbody and Vice Chairperson of ICI.
This was followed by a Keynote Speech by Sean Fleming, Irish Minister of State Department of Finance. Globally, sustainable development needs 90 trillion euros in financing, he said. It is clearly not enough to rely on government funding alone; the private sector must be involved. Governments should encourage the private sector to provide financial support and participation. Ireland has made sustainable finance a priority and is the first country to make green finance a priority in government strategy and policy. In 2019, Ireland proposed to promote the development of the financial sector, hoping that Ireland could become a top international financial services hub. The international financial services sector is crucial for Ireland. Sustainable finance will be a very important part of Ireland's future action plan, and the Irish government hopes to further boost the Irish economy through green finance. He said green finance would be a major focus for the Irish government.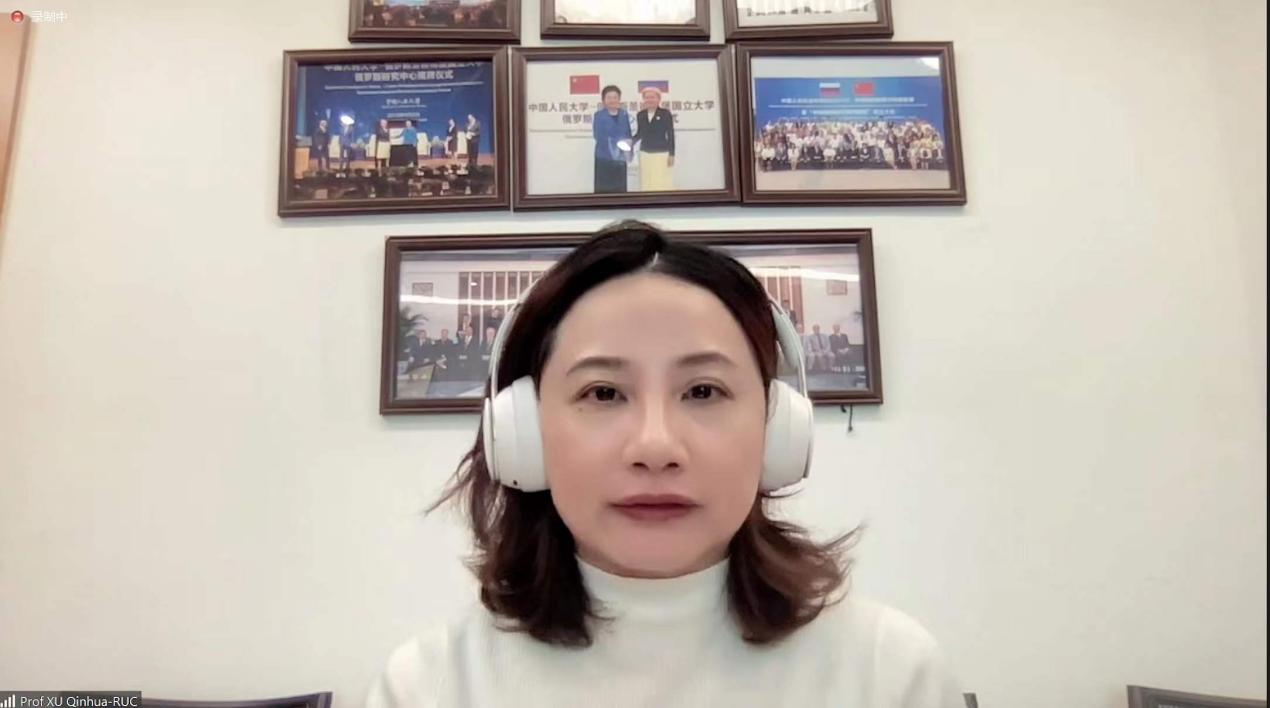 Xu Qinhua, Vice Dean of the National School of Development and Strategy, Professor of School of International Relations, and Executive Director of Center for China International Energy and Environment Strategy Studies (CIEESS), RUC, delivered a speech on the theme of "Belt and Road" green Development and potential of China-EU Cooperation. Taking the Belt and Road Green Development Index (GDI) as a starting point, she highlighted the potential of China-EU cooperation in energy efficiency, renewable energy and the R&D, promotion and application of green and low-carbon technologies. Finally, the prospect of Eco partnership between China and Europe is prospected.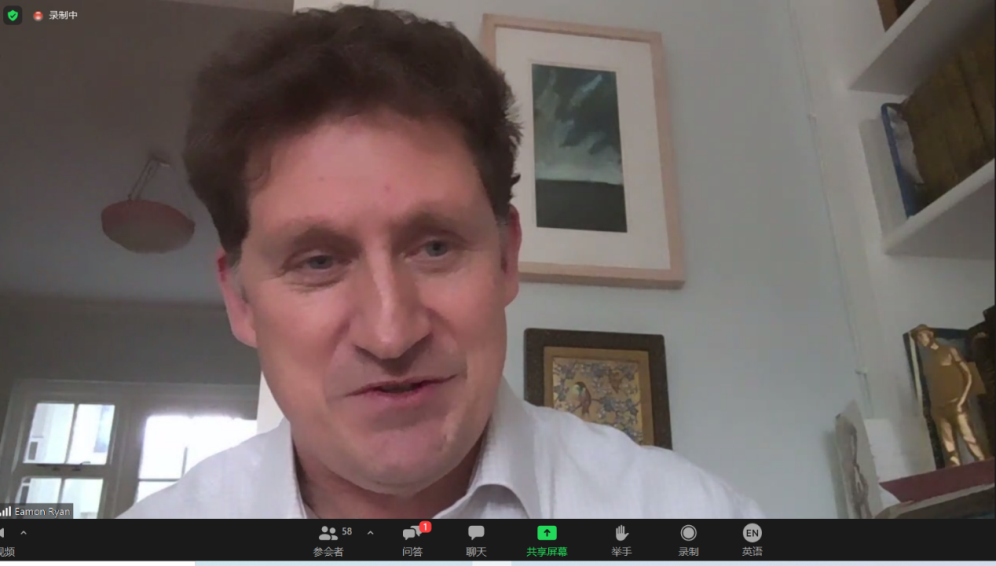 Eamon Ryan, Minister for Environment, Climate and Communications delivered the Closing Speech. He said it was important to look at what we need to do together in economies transformation, to improve people's sense of security, and to strengthen international consensus on the terms of implementation of the Paris Agreement, particularly on the article 6 on carbon markets. He highlighted the urgent need for action to improve the quality of climate finance by promoting dialogue on losses in methane mitigation.
Looking forward to China-Ireland cooperation, he said China has done a great job in energy transformation, such as in the field of developing electric vehicles in transportation and generating electricity through solar power. At the same time, in the electricity supply management area, China has been in the world-leading level, which provide inspirations for Ireland. The project cooperation between China and Ireland is conducive to a peaceful development. Today's forum is a good example to show the world how China and Ireland can work together to improve security and benefit both countries.